Regular price
Sale price
$12.00 USD
Unit price
per
Sale
Sold out
Prakriti Sattva's Keshya Ayurvedic Rosemary Amla Hair oil is formulated to nourish the hair and scalp.
Made with hair and scalp nourishing oils and infused with herbs - Rosemary, Amla (Indian Gooseberry), Licorice and Bhringaraj (Eclipta Prostrata) for maximum benefit to the hair and scalp.
Formulated by an Ayurvedic Practitioner with knowledge of traditional Ayurvedic and other holistic methods. It is all natural with no added chemical preservatives or artificial fragrances. It is scented with essential oils that are also known to support the hair and scalp.

Ingredients:

Fractionated Coconut oil, Avocado oil, Olive Oil, Castor oil, Indian gooseberry (Phyllanthus Emblica) extract, Rosemary leaf extract, False Daisy leaf (Eclipta Prostrata , Bhringaraj) extract, Licorice root extract, Vitamin E oil, Rosemary essential oil, cedarwood essential oil, Lavender essential oil.

Suggested Use:
Apply generously to scalp and hair and gently massage in. Alternately, combine with equal quantity of aloe vera gel and massage onto scalp. Leave in for one hour or overnight and rinse off with a gentle shampoo.
Product Disclaimer:
All Products are for External Use Only; Test Product on a Small Area of body before using. Follow Product Directions for use. Some Products contain Lavender (pregnant women should proceed with caution); Proceed with Caution if ALLERGIC to any of the ingredients listed. Discontinue use if any Irritation Occurs. Please seek Medical Advice before using the Products, especially if you have any Pre-Existing Medical Conditions. Please keep all Products out of direct Sunlight & Heat. Store Products in a Cool, Dark Place. Due to the Hand Blend of Our Batches, Product may vary (in color/texture) from Batch to Batch. Products may also become slightly Looser or Melt partially due to changes in Shipping Temperatures, Warmer Climates, etc. This product contains natural herbal extracts and may stain skin, clothing and other surfaces. Avoid contact with sensitive areas, eyes, open wounds and cuts. Keep out of reach of Children and Pets. Prakriti Sattva LLC is not responsible for damages due to any of the things mentioned above.
Please note that while Ayurvedic hair oils can offer potential benefits, individual results may vary, and it's important to consider factors like overall hair and scalp health, as well as any specific concerns you may have before using any hair care product.
This product has not been tested and approved by the FDA.
Shipping & Returns

Ships within 5 days of ordering.
Care Instructions

Store in a Cool / dark, dry place.
Share
View full details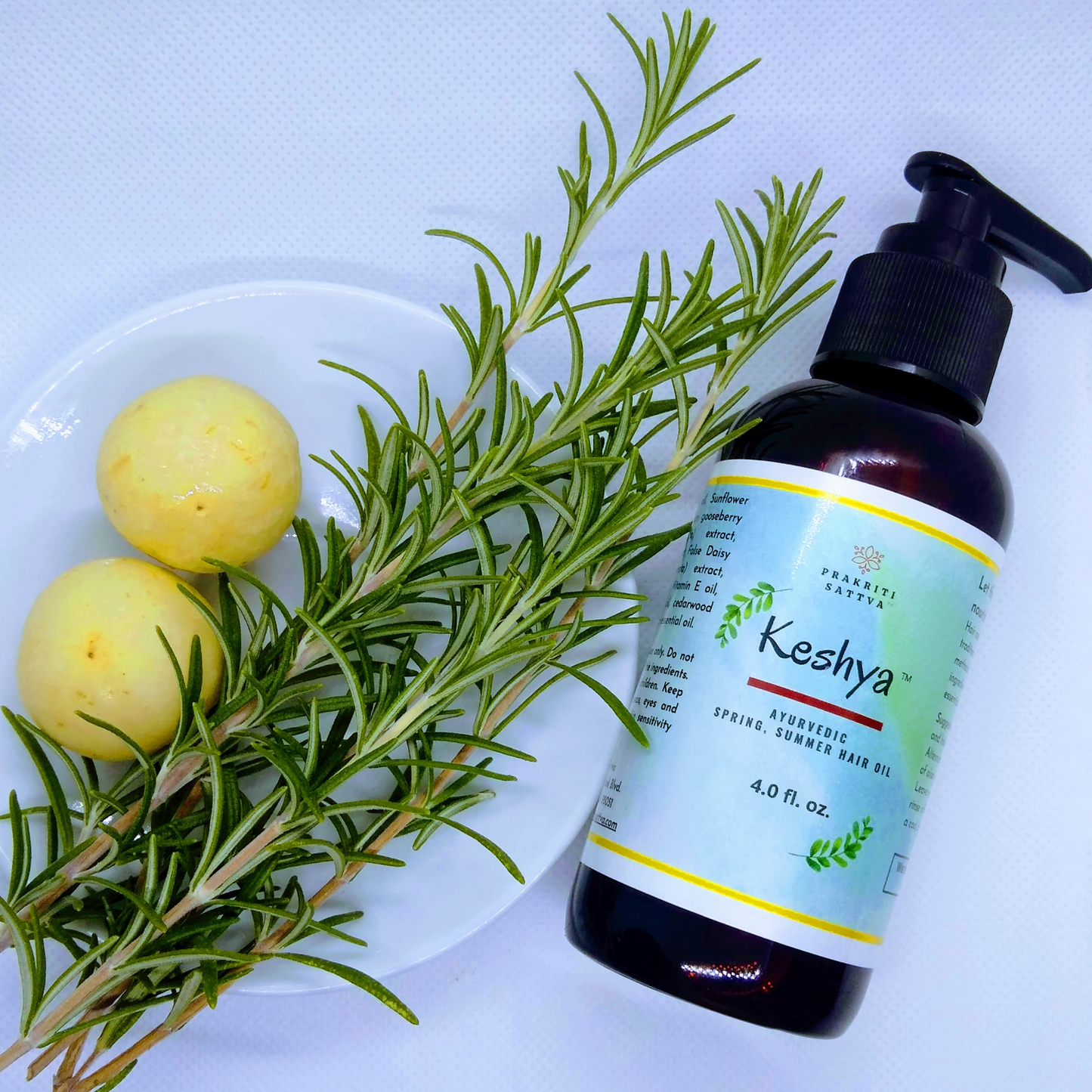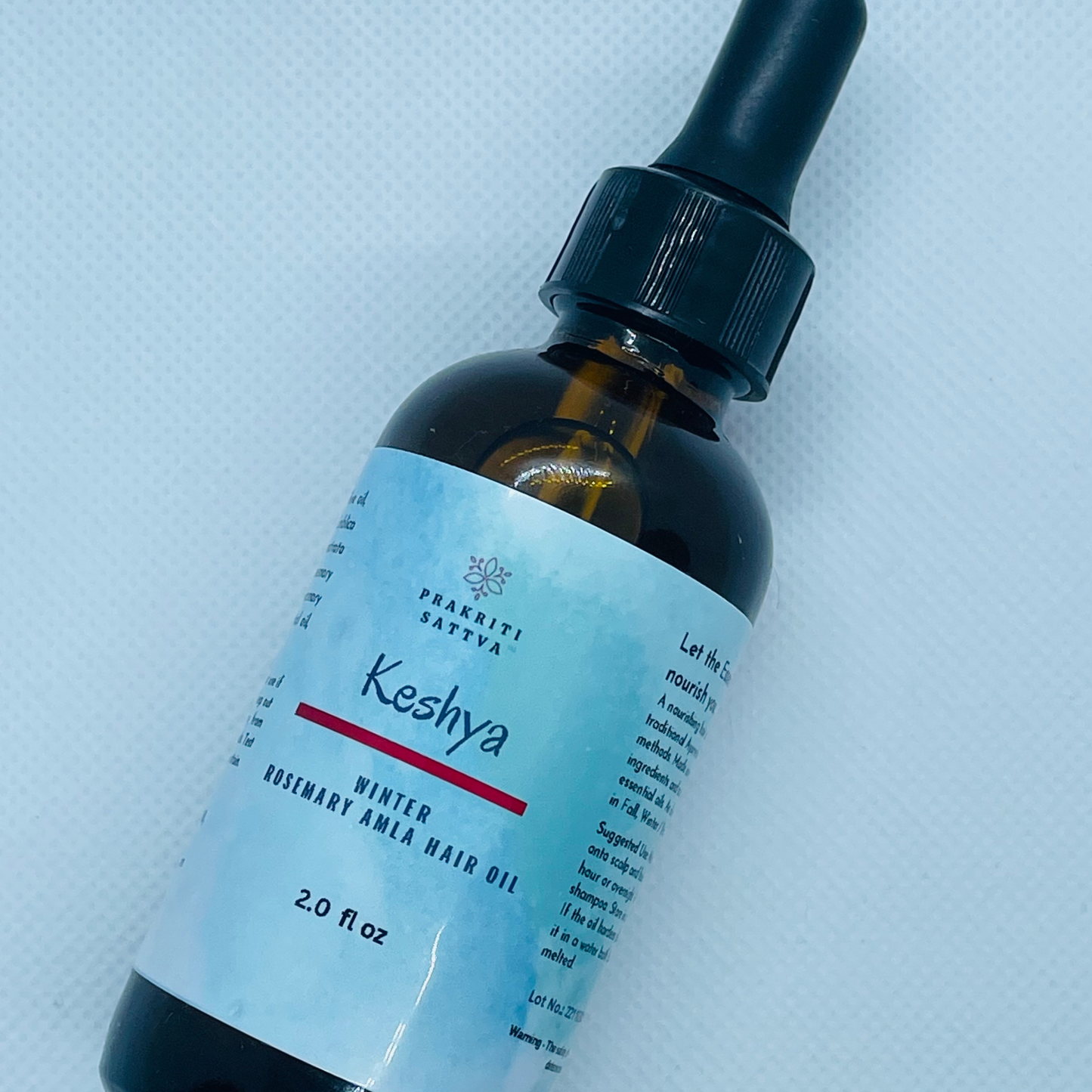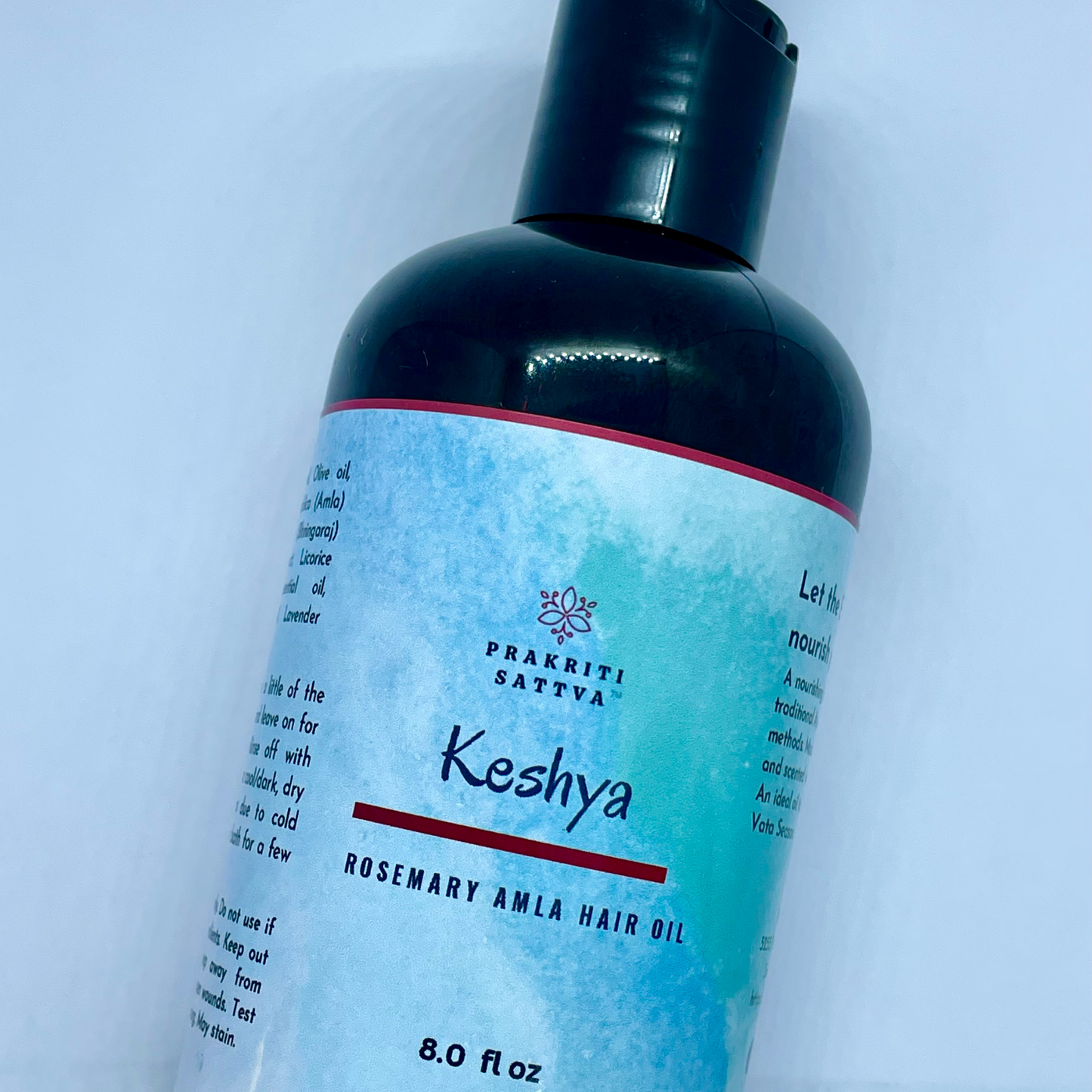 Great hair oil
I like the Keshya Rosemary Amla for all the nourishing ingredients. Regular use of this oil has made my hair look shiny and healthy. It's non greasy, great smelling and a good product, which I highly recommend to anyone.
Keshya hair oil
Great product! My daughter loves using this hair oil. Nice aroma too. Highly recommend this product